Karastan Carpets & Rugs
Is it time to add a touch of elegance to your home or office? Get inspired by all the beautiful designs from Karastan carpets available at Carpet One of Livermore. We are sure you will find among our selection the unique piece you have been dreaming for a long time. Karastan is more than just good looks. The Karastan brand is known as the "The Wonder Rugs of America," a recognition they have been carrying around since they introduced their first products to the flooring market. These carpets and area rugs are manufactured with the highest quality standards that ensure your investment will last for many years to come. One of their unique attributes is their SmartStrand® technology that offers the peace of mind that your investment will survive pet-related stains, spills, and odors, all while remaining incredibly soft and stylish. When you invest in Karastan, you can rest assure that they have the strong backing to stand up to all the foot traffic in your home.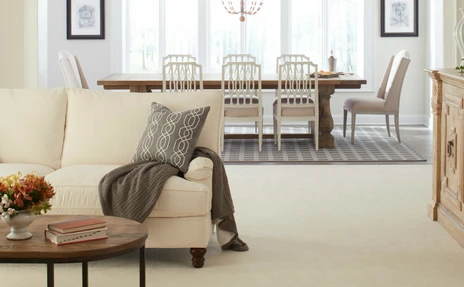 Benefits of Karastan
Thanks to the evolution of technology, today you will find carpets that are created with permanent built-in stain and soil protection technologies that will prevent the product of wearing off. Karastan's compromise has been staying on trend with this evolution to improve their production continuously. Another reason to support this brand is that Karastan is committed to creating products that are environmentally friendly. Their compromise is to use sustainable ingredients while taking care of the natural resources.
Are you inclined towards the classic designs? Or are you looking for a more contemporary style? Don't worry because no matter what your style is, Karastan has a wide selection of products to guarantee that every homeowner will find its match.